4 Best Occasions to Visit a Dinner Show in Pigeon Forge
September 14, 2023
Are you wondering what the perfect thing to do in Pigeon Forge is, for any age and any occasion? It's a dinner show! Dinner shows in Pigeon Forge offer a blend of both a delicious meal and action-packed entertainment. The best part is that they have something for everyone and are great for all ages. No one is too young or too old to have fun at a dinner show! While there's no bad time to visit one of these popular attractions, we've highlighted some of the best occasions to visit a dinner show in Pigeon Forge:
1. Family Night Out
Looking for a fun way to spend a night out with your family? Look no further than a dinner show in Pigeon Forge! These shows are great for all ages. Whether you're visiting with toddlers, kids, teens, parents, grandparents, or all of the above, everyone will have a great time at one of the dinner shows. Not only does the entertainment appeal to all ages, but you won't have to worry about finding a restaurant that everyone can agree upon. The dinners at these shows are loved by even the pickiest of eaters! Some of the shows also have special activities for families to enjoy before the show, like the Horse Walk at Dolly Parton's Stampede or Join the Crew at Pirates Voyage Dinner & Show!
2. Date Night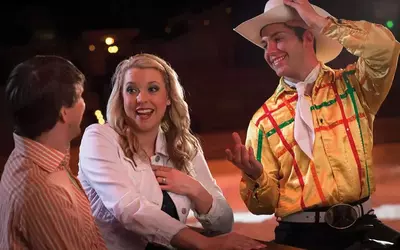 Everything is more special when you share it with the one you love, and this includes dinner shows! Take the classic "dinner and a movie" date night idea to a whole new level when you visit a dinner show in Pigeon Forge. You can enjoy a delicious meal that's unlike anything you can get at a typical restaurant, and there won't be a moment of boredom while you dine! Whether you're watching pirates scale full-sized pirate ships in a battle for the sunken treasure or beautiful horses and talented trick riders circle an arena, you're in for a treat. Be sure to get a photo taken together inside the theater so you can remember the evening for years to come, and stop by the gift shop before you leave to get matching souvenirs!
3. Corporate Retreat
Dinner shows aren't just fun activities for loved ones. They also make the perfect attraction for corporate retreats! What better way to bond with your team than laughing the night away at the Hatfield & McCoy Dinner Feud, or being mesmerized together at the impressive stunts at Dolly Parton's Stampede. The best part is the top shows in Pigeon Forge offer special group pricing! Groups of 20 people or more get a discount at these dinner shows. Some shows even offer dedicated performances just for your group!
4. Group Vacation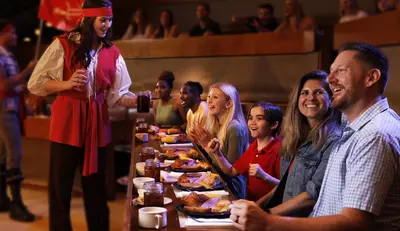 You don't have to be visiting with a work group to enjoy everything that a dinner and show in Pigeon Forge has to offer! Other popular groups include church groups, large families, school groups, bands, choirs, and more. These shows have something for all ages to enjoy, which makes them top choices for things to do with large groups. As we mentioned before, groups of 20 people or more will receive special group pricing! Members of your group will get to enjoy both a delicious dinner and a fun-filled show for one ticket price. This helps you save by avoiding costly restaurant bills on top of attraction tickets! No group is too large for these action-packed attractions, either. For example, Dolly Parton's Stampede in Pigeon Forge can hold as many as 1,000 people!
Now that you know the best occasions to visit a dinner show in Pigeon Forge, we bet you can't wait to visit! Choose an occasion that's best for you, and learn more about the dinner show tickets you have to buy.