3 Pigeon Forge Dinner Show Tickets You Have to Buy
February 24, 2023
What could be better than seeing an entertaining show? Seeing an entertaining show while enjoying a delicious meal! A dinner show is the best way to spend an evening, and luckily, we know of a few that you don't want to miss. These dinner attractions have everything from unforgettable stunts, to live animal performances, to mouth-watering feasts! To help you decide which ones you should check out, we've made a list of the top 3 Pigeon Forge dinner show tickets you have to buy:
1. Dolly Parton's Stampede
For a world-class performance featuring 32 magnificent horses and a cast of talented trick riders, you have to visit Dolly Parton's Stampede. We like to think of this dinner attraction as the most fun place to eat! The show not only features amazing horse riding stunts, but also friendly competition, comedic fun, musical performances, aerial acrobatics, and more. Your eyes will be glued to the middle of the arena the entire time. In addition to horses, audience members will get the chance to see a herd of buffalo and longhorn! While you watch the incredible show, you'll be dining on a four-course feast as big as the main event. The menu features the show's signature creamy vegetable soup, a whole rotisserie chicken, hickory smoked barbecued pork loin, and more.
2. Pirates Voyage Dinner & Show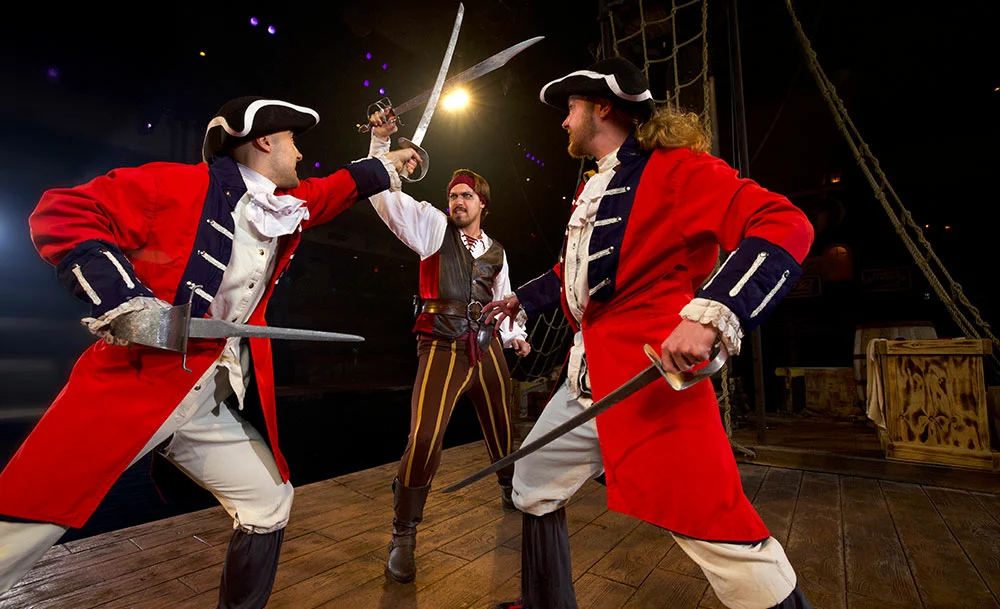 When you're ready to set sail on an unforgettable pirate journey, you'll want to get Pigeon Forge dinner show tickets for Pirates Voyage. Pirates Voyage Dinner & Show allows visitors to witness an epic pirate battle that's unlike any they've seen before. Captain Blackbeard and his quartermaster, Calico Jack, lead the Crimson and Sapphire crews in a battle on land, on deck, in water, and high above their pirate ships to be the first to get the sunken treasure. In addition to pirates, beautiful mermaids, tropical birds, dock-diving dogs, and a "Salty" sea lion join in on the fun as well. This action-packed show features sword fighting, an unbelievable fire act, high-diving and aerial stunts, and more. While you watch, you'll get to feast on a hearty, four-course dinner that's big enough to fill hungry pirates and landlubbers alike. The Pigeon Forge menu includes Cracklin' Pan-Fried Chicken, Swashbucklin' Sugar-Cured Ham, a Walk the Plank Specialty Dessert, and sides.
3. Hatfield & McCoy Dinner Feud
Are you in the mood for some feudin', feastin', family fun? Hatfield & McCoy Dinner Feud in Pigeon Forge is the place to be! This hilarious show provides an evening of family-friendly entertainment and an all-you-can-eat feast. You can become a part of the longest running family feud in history and watch as the Hatfields and McCoys try to settle their differences — mountain-style. There are jaw-dropping stunts, mighty feats of strength, and even some singing and dancing! One of the best parts of the show features a 22-foot-deep swimming hole with over 20,000 gallons of water and some diving dogs and hillbillies. You'll also enjoy some high-flying fun with the billycopter, which is used to help the sheriff keep an eye on the two feuding families. Dinner is an all-you-can-eat Southern homestyle feast! Granny cooked up some fried chicken, pulled pork, homemade bread, and more. You can view the full menu here.
Get Your Pigeon Forge Dinner Show Tickets Today
Now that you know some of the best dinner shows to visit, the next step is to get your tickets! Take a look at all the dinner show tickets available and reserve your spot at one of these theaters today.