All the Details About the Top Shows in Pigeon Forge
February 10, 2023
Pigeon Forge is home to a wide variety of entertainment. Whether you're in the mood for some laughter or thrilling stunts, you can enjoy it all in this top vacation destination. To help you decide which shows to attend on your trip, we've created a guide with everything you need to know about the top shows in Pigeon Forge.
Hatfield & McCoy Dinner Feud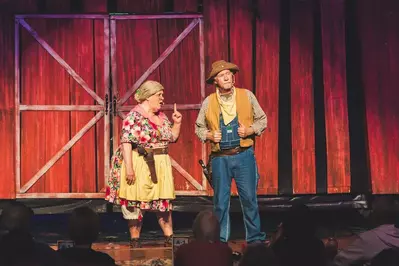 Dolly Parton's Stampede
Dolly Parton's Stampede in Pigeon Forge
Pirates Voyage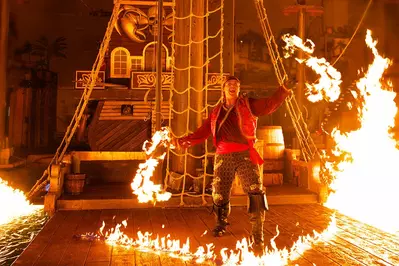 Another one of our favorite dinner shows in Pigeon Forge is Pirates Voyage. Pirates Voyage Dinner & Show allows visitors to set sail on an adventure in the heart of the Smoky Mountains. Captain Blackbeard and his quartermaster, Calico Jack, lead the Crimson and Sapphire crews in a battle on land, on deck, in water, and high above the full-sized pirate ships in an indoor hideaway lagoon! During the battle, you'll witness acrobatics and aerial stunts, sword fighting, a fire trick, and more. Beautiful mermaids, tropical birds, a sea lion, and daring dogs also join in on all the action. You'll want to come hungry when you visit this Pigeon Forge show, because the feast is big enough to fill the most hungry of pirates! The dinner includes Cracklin' Pan-Fried Chicken, Swashbucklin' Sugar-Cured Ham, Voyager Creamy Vegetable Soup, and more. Like Dolly Parton's Stampede, Pirates Voyage also has opportunities for fun before the show. Families love the Join the Crew experience, which transforms the kids (and parents, too!) into swashbuckling pirates or beautiful mermaids for an additional fee.
The Comedy Barn
Get Tickets for These Shows in Pigeon Forge
Now that you know all the details about the top shows in Pigeon Forge, you're ready to start planning your visit. You can see one, or see them all! Take a look at all the Pigeon Forge show tickets and start planning your visit.