You Ultimate Guide to Visiting The Comedy Barn in Pigeon Forge
July 14, 2023
Are you in the mood for an evening full of laughter? Plan a visit to The Comedy Barn in Pigeon Forge! This popular spot is the most successful and most attended clean comedy theater in the world. It's a show the whole family will love, from kids to grandparents! To guarantee you have the perfect time when you visit, we've created the ultimate guide to visiting The Comedy Barn in Pigeon Forge:
What It's About
The Comedy Barn is a hilarious family-friendly show that features fun barnyard animals, jugglers, comedians, ventriloquists, and live country and gospel music. Each and every performer has a talent in making you laugh! The juggler will juggle items like bowling pins, cups, sickles, stun guns, and bear traps, and the ventriloquist will introduce you to new friends, like Bonzo the Monkey. There's even some audience participation throughout the show that gives the performers a chance to improvise. This award-winning family variety show has something for everyone!
The Comedy Barn also has a concession stand where you can get snacks and drinks to enjoy, and a gift shop where you can find the perfect souvenir!
What to Bring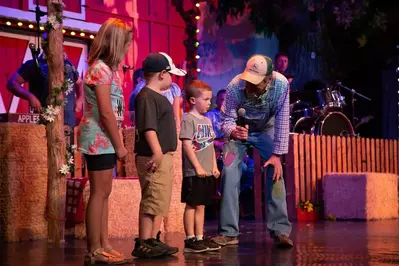 You're not required to bring anything with you to The Comedy Barn in Pigeon Forge, but there are a few things that will allow you to have the time of your life. The first is your humor. You'll want to be ready to laugh when you arrive at The Comedy Barn because you're guaranteed at least a laugh a minute while you watch the show! The clean comedy isn't too cheesy for adults to enjoy, and it's easy for kids to understand and find funny too! We also recommend bringing your family along to see the show. Everything instantly becomes more special when you get to share it with the ones you love, and our show is great for all ages. Everyone in the family will have a great time at The Comedy Barn, and you'll be talking about it together long after the show is over!
How to Get Tickets
Now that you know what The Comedy Barn is all about, you're ready to visit! Are you wondering how to get tickets? Getting Comedy Barn tickets is easy! One thing to keep in mind is the importance of purchasing them in advance. The show is popular and sells out quickly, so getting tickets in advance is the only way to guarantee you'll get to see the show on the date and at the time you want. You can call the box office to get your tickets, but the easiest way is to get them online! You can browse the show schedule to find a show that works for you, then choose how many tickets you want and your preferred seating, and make your purchase. When you purchase your tickets ahead of time, all you have to do is pick them up at the box office when you arrive! We recommend arriving at least 30 minutes before showtime to pick up your tickets.
Get Your Tickets to The Comedy Barn in Pigeon Forge
With our ultimate guide to visiting The Comedy Barn in Pigeon Forge, you're guaranteed to have a great time! Are you ready to plan your trip? Get your Comedy Barn tickets today!