4 Reasons Families Love Our Shows in Pigeon Forge
March 22, 2023
When you're looking for the perfect thing to do with your family in Pigeon Forge, look no further than one of the incredible shows! The shows in Pigeon Forge offer a variety of entertainment for all ages. From thrilling horse riding tricks to hilarious antics from hillbillies, you can see it all! Here are 4 reasons families love our shows in Pigeon Forge:
1. Great for All Ages
Sometimes it can be hard choosing an activity that everyone in the family wants to do — but not when you visit Pigeon Forge! Our shows have something for everyone and are great for all ages. Kids, teens, parents, and even grandparents love the entertainment our shows provide. The Comedy Barn is the most successful and most attended clean comedy theater in the world, using humor that everyone understands and enjoys. Hatfield & McCoy Dinner Feud brings the longest-running family feud to life and features singing and dancing, stunts, comedy, and more. Dolly Parton's Stampede is a high-spirited adventure with 32 horses and a cast of talented trick riders, aerial performances, stunning special effects, and incredible musical productions. Pirates Voyage is an epic pirate battle with sword fighting, cannons blazing, aerial stunts, and a Join the Crew experience before the show that kids love. Each show has fun opportunities for families to make memories with each other.
2. Some Offer Family Meals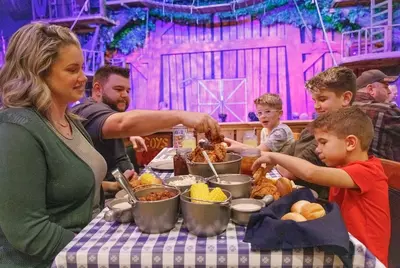 Some of our shows in Pigeon Forge not only have entertainment, but dinner as well! Our dinner shows eliminate the stress of keeping kids entertained while at a restaurant and provide delicious meals that will satisfy appetites both big and small. You'll get to enjoy your meal while watching our talented performers do what they do best! Dolly Parton's Stampede's four-course feast includes Creamy Vegetable Soup, a Hot Homemade Biscuit, Tender Whole Rotisserie Chicken, Hickory Smoked Barbecued Pork Loin, Buttery Corn on the Cob, Herb-Basted Potato, and a Hot Flaky Apple Turnover. Pirates Voyage Dinner & Show's four-course feast includes a Buccaneer Biscuit, Voyager Creamy Vegetable Soup, Cracklin' Pan-Fried Chicken, Swashbucklin' Sugar-Cured Ham, Cob-O' Buttery Corn, Pirate Herb-Basted Potato, and a Walk the Plank Specialty Dessert. Hatfield & McCoy Dinner Feud's meal is an all-you-can-eat feast that's served family style. It includes Feudin' Fried Chick'n, Open Pit Pulled-to-Pieces Pork Barbeque, Southern Style Creamy Soup, Smashed Mashed Taters, Buttery Corn on the Cob, Ma's Hot Homemade Bread, No Tellin' What's In It Coleslaw, and Granny's Famous Specialty Dessert. All shows offer unlimited Coca-Cola®, tea, or coffee. Even the pickiest of eaters will love the meals at these shows!
3. Audience Participation
Another reason families love our shows in Pigeon Forge is because all of them have opportunities for the crowd to get involved. Whether you're being pulled up on stage to participate in acts at The Comedy Barn or getting a pirate makeover at Pirates Voyage before the show, both kids and adults love the interactive elements at our shows!
4. Great Locations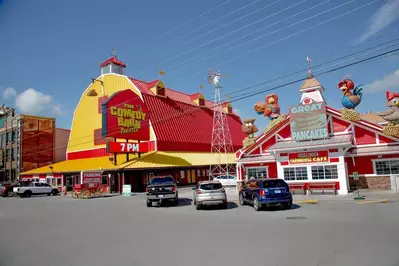 All of our shows have great locations in the heart of Pigeon Forge! Not only are they close together, they're also near other exciting family-friendly attractions. Dollywood is just a short drive away, along with the Great Smoky Mountains National Park. Also nearby are popular hotels and other lodging options, shops, and more. If you can't make it to Pigeon Forge, you have the opportunity to see Pirates Voyage in Myrtle Beach, SC, or you can visit Dolly Parton's Stampede in Branson, MO.
Get Tickets to Our Shows in Pigeon Forge
Are you ready to bring your family to one of these incredible shows in Pigeon Forge? Get your tickets today!