Your Guide to Visiting Hatfield & McCoy Dinner Feud in Pigeon Forge
April 18, 2023
Are you ready to become a part of the longest running family feud in history? That's what will happen when you visit the Hatfield & McCoy Dinner Feud in Pigeon Forge! This show combines feuding, feasting, and family fun for one unforgettable evening. We want to make sure you have the best time when you visit this popular dinner attraction, which is why we've created the perfect guide to visiting Hatfield & McCoy Dinner Feud.
Get Your Tickets in Advance
The Hatfield & McCoy Dinner Feud in Pigeon Forge is one of the most popular shows in the area, so you'll want to get your tickets ahead of time to guarantee you get to visit the date and time you want! As soon as you decide when you'll be in the area, you can get your dinner show tickets online. You'll be able to choose your preferred seats (are you Team Hatfield or Team McCoy?), and you can specify if anyone in your party needs any special meals. When you purchase your tickets online, all you have to do is pick them up from the box office when you arrive on the day of the show.
Bring the Whole Family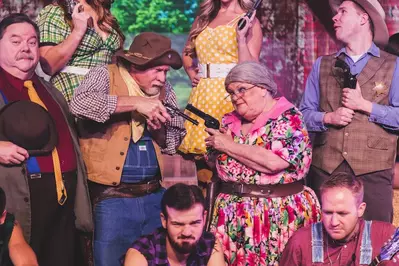 To guarantee you have the best visit, you'll want to bring your whole family along with you! Everything is more special when you share it with the ones you love, and this show is a fun experience for all ages. Your family will love watching the two families feuding on stage — trust us, it will make you feel much better about the little quarrels you have with your own family. You'll laugh the night away together as you watch the singing and dancing, mighty feats of strength, and jaw-dropping stunts that take place on stage, and your family will leave with memories you'll be talking about long after the show is over!
Come Hungry
The one thing you have to bring when you visit Hatfield & McCoy Dinner Feud in Pigeon Forge is your appetite. Granny's been in the kitchen cooking up a delicious Southern homestyle feast for everyone in the audience. The meal includes Feudin' Fried Chick'n, Open Pit Pulled-to-Pieces Pork Barbeque, Southern Style Creamy Soup, Smashed Mashed Taters, Buttery Corn on the Cob, Ma's Hot Homemade Bread, No Tellin' What's In It Coleslaw, and Granny's Famous Specialty Dessert. Plus, you'll have unlimited Coca-Cola®, tea, or coffee. The best part about this meal is that it's served family-style, and it's all you can eat! Fill yourself up with enough to satisfy all your home-cooked, hillbilly cravings as you watch the show.
Visit the Gift Shop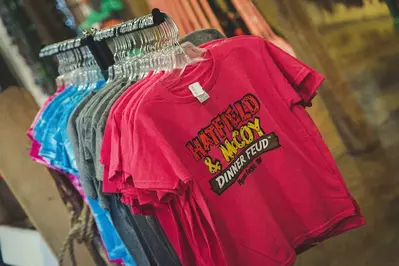 Before you leave the theater, be sure to stop by the gift shop! This is the perfect place to get your unique Hatfield & McCoy Dinner Feud souvenirs. You'll find t-shirts and other apparel, toys and plush animals, home decor and drinkware, and more. Did you fall in love with the show's soup? You can also find Creamy Soup Mix that you can purchase and make back at home! There's something for everyone in the gift shop.
If you follow our guide to visiting the Hatfield & McCoy Dinner Feud in Pigeon Forge, you're sure to have a great time! Take our advice and get your tickets online ahead of time!