3 Reasons to Check Out the Dinner Shows in Tennessee
October 30, 2023
There's nothing quite like spending an evening enjoying non-stop entertainment and a delicious meal! You can find the perfect combination of food and fun in Tennessee. Pigeon Forge, Tennessee is home to some exciting dinner attractions that provide a memorable experience for visitors of all ages. When you're ready for a one-of-a-kind experience, plan your visit to a dinner show! If you need more convincing, here are 3 reasons to check out the dinner shows in Tennessee:
1. Family Friendly Entertainment
One of the reasons the dinner shows in Pigeon Forge are so popular is because they're all family friendly! Say goodbye to the struggles of finding an activity that everyone in the family can agree upon and hello to a dinner attraction! There won't be a minute of boredom for anyone in the family when you visit a dinner show in Tennessee. From hilarious antics, to singing and dancing, to thrilling stunts, these shows have something for everyone. Children, teenagers, parents, and grandparents can all grab a seat in one of these theaters for a memorable night!
If your family is in the mood for laughter, head to the Hatfield & McCoy Dinner Feud, where you'll become a part of the longest running feud in history and witness jaw-dropping stunts, mighty feats of strength, singing and dancing, and comedy. If you want to watch a high-spirited adventure with exciting horse riding tricks and other stunts, visit Dolly Parton's Stampede! When your family is ready to watch an epic pirate battle complete with sword fighting and acrobatics, then Pirates Voyage Dinner & Show is the place to be.
2. Delicious Food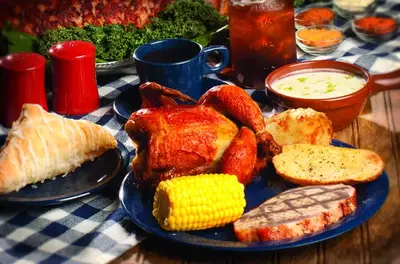 These dinner shows in Tennessee wouldn't be as popular as they are if they didn't serve delicious feasts! You won't find meals quite like these anywhere else in Tennessee. Dolly Parton's Stampede and Pirates Voyage Dinner & Show both serve mouth-watering four-course dinners. Dolly Parton's Stampede offers guests their own Original Creamy Vegetable Soup, a Hot Homemade Biscuit, a Tender Whole Rotisserie Chicken, a Hickory Smoked Barbecued Pork Loin, Buttery Corn on the Cob, an Herb-Basted Potato, and a Hot Flaky Apple Turnover. Pirates Voyage in Pigeon Forge serves guests a hearty pirate feast that includes a Buccaneer Biscuit, Voyager Creamy Vegetable Soup, Cracklin' Pan-Fried Chicken, Swashbucklin' Sugar-Cured Ham, Cob-O' Buttery Corn, a Pirate Herb-Basted Potato, and a Walk the Plank Specialty Dessert. If you're feeling really hungry, you'll love visiting the Hatfield & McCoy Dinner Feud, where you'll get an all-you-can-eat Southern homestyle feast that includes Feudin' Fried Chick'n, Open Pit Pulled-to-Pieces Pork Barbeque, Southern Style Creamy Soup, Smashed Mashed Taters, Buttery Corn on the Cob, Ma's Hot Homemade Bread, No Tellin' What's In It Coleslaw, and Granny's Famous Specialty Dessert.
Each dinner show includes unlimited Coca-Cola®, tea, or coffee. If you have dietary restrictions or preferences, special meals are available upon request!
3. Great for All Occasions
Another reason to check out these dinner shows in Tennessee is that they're great for all occasions! We mentioned that they're great for families, but you don't have to be visiting with your family to be able to enjoy one of these incredible shows. Dinner shows are the perfect activity for school trips, family reunions, corporate retreats, date nights, and so much more! Visit with your sweetheart to take your typical dinner and a movie date plans to a whole new level, or visit with a big group and take advantage of special group pricing. Whatever occasion brings you to the Smoky Mountains, you'll love spending an evening at a dinner show!
Now that you know the top reasons to check out the dinner shows in Tennessee, we bet you can't wait to learn more about them! To know more about the shows and to decide which one you want to see first, take a look at these 3 Pigeon Forge dinner show tickets you have to buy.