Your Ultimate Guide to Visiting Pirates Voyage Dinner & Show
May 16, 2023
Are you ready for fun, feast, and adventure? Then we have the perfect show for you! You have to plan a visit to Pirates Voyage Dinner & Show. This action-packed dinner attraction welcomes guests to an indoor hideaway lagoon where you'll set sail on an epic pirate journey with battles for sunken treasure, beautiful mermaids, live animals, and more. To help you plan your visit, we've created the ultimate guide to visiting Pirates Voyage Dinner & Show:
Arrive Early to Join the Crew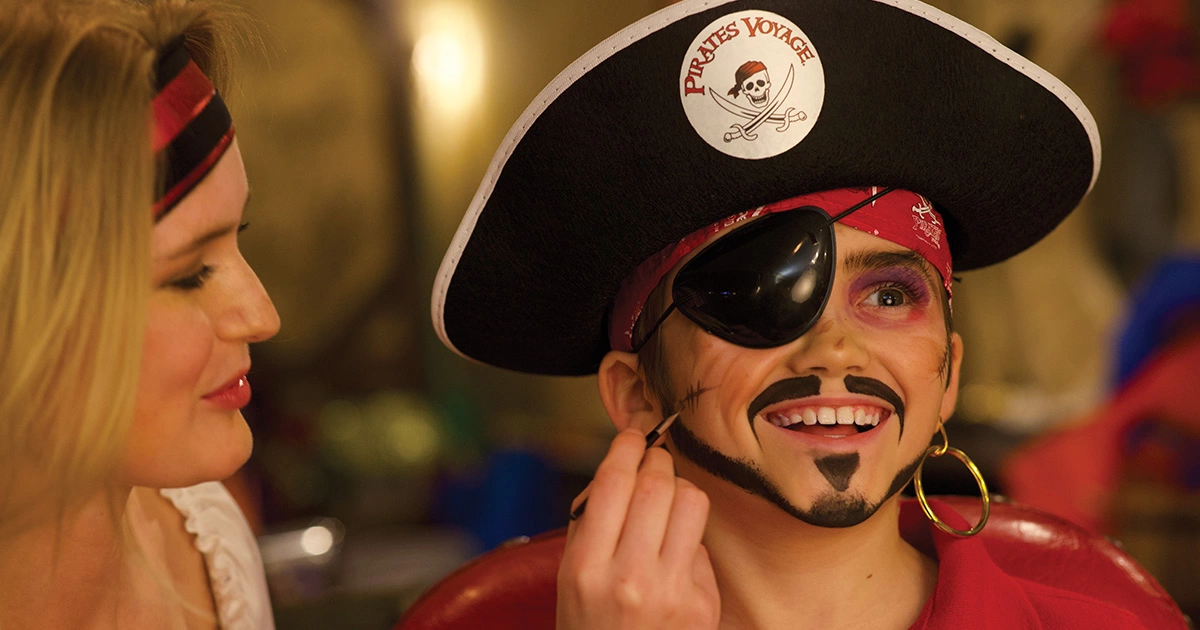 Did you know the action begins before the show even starts? Make sure that you arrive early to join the crew! Captain Blackbeard is looking for his new recruits, and you could be one of them. The Join the Crew experience is available for all ages for an additional fee and allows everyone to feel like they're a part of our show! Choose to be transformed into a swashbuckling pirate or a beautiful mermaid. The pirate makeovers include facial makeup, a bandana or a pirate hat, an earring and an eye patch, and a sword and a flag. The mermaid makeovers include facial makeup, a tiara, earrings, and a wand and a flag. It's a pre-show experience you don't want to miss!
Enjoy a Four-Course Pirate Feast
Once you're seated in the indoor hideaway lagoon, get ready to be served a hearty pirate feast! The four-course dinner is enough to satisfy the most hungry of pirates and landlubbers. The meal includes Voyager Creamy Vegetable Soup, Buccaneer Bread, Swashbucklin' Sugar-Cured Ham, Cob O' Buttery Corn, Herb-Basted Potato Wedge, and a specialty dessert. The Myrtle Beach location also serves Half O' Roasted Cackler, and the Pigeon Forge location also serves Cracklin' Pan-Fried Chicken. We also have vegan, vegetarian, gluten-free, and dairy-free meals upon request so that everyone can enjoy the dinner portion of this show! You definitely won't go hungry at this popular dinner attraction.
Watch the Show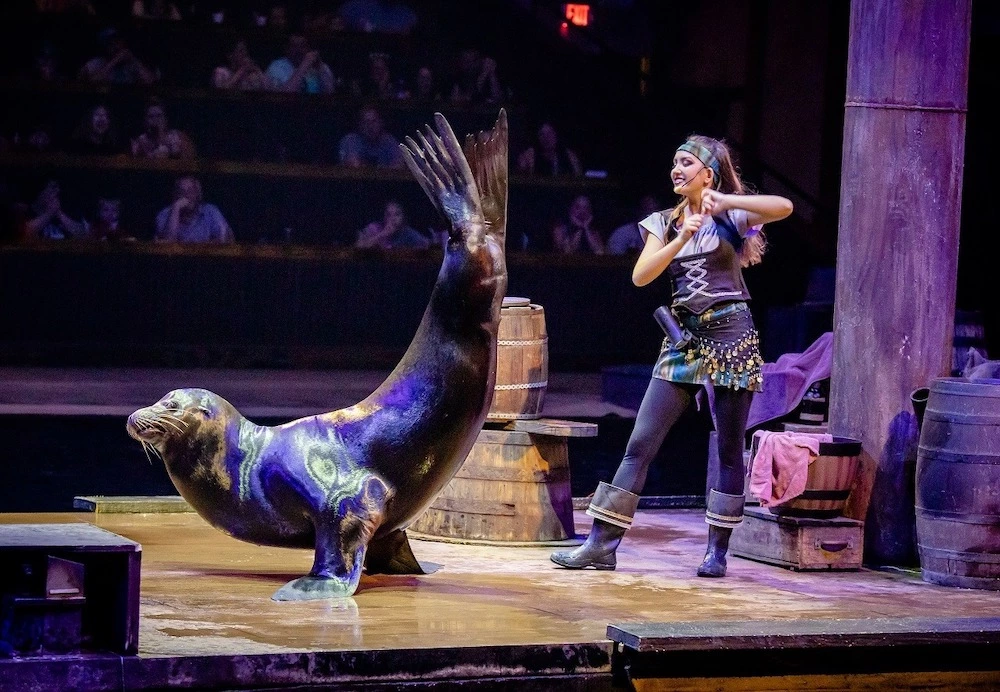 As you enjoy the meal, you'll get to watch the action-packed show take place. Pirates Voyage Dinner & Show features Captain Blackbeard and his quartermaster, Calico Jack, as they battle on land, on deck, in water, and high above their full-sized pirate ships for the sunken treasure. You'll witness sword fighting, cannons blazing, acrobatics, and more. In addition to pirates, the show features beautiful mermaids who perform aerial stunts high above the lagoon before diving back into the water, a salty sea lion who captures the hearts of all the audience members, and daring, dock-diving dogs. The show combines heroics and high-flying fun that will have guests cheering and experiencing thrills around every corner!
Two Great Locations
The best part about Pirates Voyage Dinner & Show is that there are two great locations you can choose to visit. One is in Myrtle Beach, SC, while the other is in Pigeon Forge, TN. Both bring incredible fun, feast, and adventure to your vacation and are close to the top places to stay and things to do in their respective cities.
With our ultimate guide to visiting Pirates Voyage Dinner & Show, you're guaranteed to have a great time when you visit. Get your tickets to the Myrtle Beach dinner show or the Pigeon Forge dinner show today!