5 Things to Know About Pirates Voyage in Myrtle Beach
October 16, 2023
Ahoy, matey! When you're ready for an exciting pirate adventure in the heart of Myrtle Beach, you'll want to visit Pirates Voyage Dinner & Show. This popular dinner attraction invites visitors to celebrate the pirate spirit with fun and adventure in Myrtle Beach, SC. Whether you're hearing about the dinner show for the first time or you're just hoping to learn more about it, we can help! Here are 5 things to know about Pirates Voyage in Myrtle Beach:
1. You Can Join the Crew
You'll want to make sure you arrive early when you visit Pirates Voyage Dinner & Show! Before all the action begins, visitors of all ages will have the opportunity to "Join the Crew." This unique experience transforms landlubbers into swashbuckling pirates or beautiful mermaids. Pirate makeovers include facial makeup, a bandana or pirate hat, an earring and an eye patch, and a sword and a flag. Mermaid makeovers include facial makeup, a tiara, earrings, and a wand and a flag. This one-of-a-kind activity is available to everyone before the show begins for an additional fee.
2. You Can Meet the Animals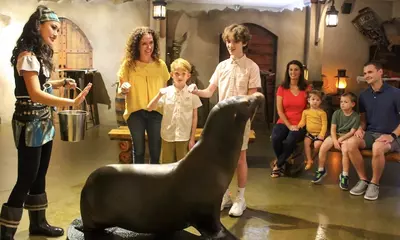 Are you an animal lover? Then you'll love the Animal Encounter at Pirates Voyage! Visitors from all over fall in love with the animal performers, especially Salty the Sea Lion. Now, you have the chance to meet them all during the special Animal Encounter! This is an exclusive 30-minute program that allows visitors to interact with all the incredible animals. During the program, guests will also have the chance to learn more about their positive reinforcement training and how Pirates Voyage provides exceptional welfare for the animals every day.
3. It's Non-Stop Action
Another important thing to note about Pirates Voyage in Myrtle Beach, SC is that it has non-stop action. From the moment the show begins to the moment the show ends, you'll be entertained by an epic pirate battle. Watch as pirates scale full-sized pirate ships and perform incredible acrobatics as they fight for the coveted treasure. During this tale of high seas escapades and romance, you'll also get to see beautiful mermaids perform gracefully above the lagoon, a Salty sea lion, diving dogs, and tropical birds. Get ready for sword fighting, cannons blazing, high diving, singing and dancing, and more.
4. There's a Pirate Feast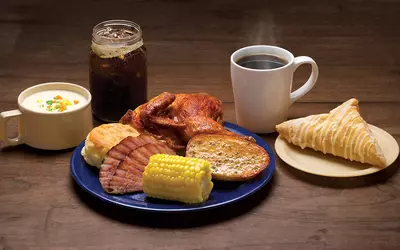 The show isn't the only great part about this dinner attraction, however. Guests will also be served a mouth-watering pirate feast while they watch the action unfold! The feast is four courses and enough to satisfy the hungriest pirates. It features Voyager Creamy Vegetable Soup, Buccaneer Bread, Half O' Roasted Cackler (Chicken), Swashbuckin' Sugar-Cured Ham, Cob O' Buttery Corn, an Herb-Basted Potato Wedge, and Apple O' Me Eye Pie. There are also gluten-free, dairy-free, vegan, and vegetarian options available upon request.
5. There's VIP Admission
One last important thing to know about Pirates Voyage Dinner & Show is that the dinner attraction offers a variety of ticket types. For the ultimate evening at Pirates Voyage in Myrtle Beach, get VIP Admission! The VIP Admission tickets provide guests with the show and four-course feast, front row seating, an exclusive meet and greet with a cast member, a souvenir photo digital download, a cheering flag, and a VIP lanyard. You're guaranteed to have the best experience! You can also get Regular Admission, which includes the show and the feast, or Premium Admission, which has the show and the feast, along with premium seating. You can't go wrong with any ticket option you choose from Pirates Voyage.
Get Your Dinner Show Tickets to Pirates Voyage in Myrtle Beach
Are you ready to come witness this action-packed attraction for yourselves? That means it's time to get your tickets. Get your tickets to Pirates Voyage in Myrtle Beach today.