4 Perks of Getting Your Dinner Show Tickets in Advance
July 21, 2023
Seeing a dinner show is one of the best things you can do on any vacation. Whether you're visiting Branson, Myrtle Beach, or Pigeon Forge, you'll have the chance to visit one of the most popular dinner attractions! Once you decide what show you want to see, you'll want to purchase your tickets. Dinner shows sell out quickly, so waiting until the day of the show to get your tickets can result in you not getting the chance to go! Here are 4 perks of getting your dinner show tickets in advance:
1. Date & Time You Want
Getting your tickets in advance is the only way to guarantee you get to see the show on the date and at the time you want. Once you know the dates you'll be in town, it's time to decide what evening you want to spend at the dinner show. You can view the show's schedule to see the days and times of the performances! If you wait too long to get your tickets, they may sell out for the showtime that works best for you — getting them online ahead of time ensures you get to visit the show when you want.
2. Preferred Seating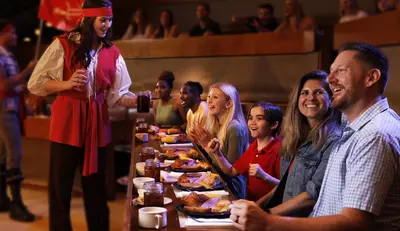 When you purchase your dinner show tickets ahead of time online, you'll get to specify where you prefer to sit in the theater. For Dolly Parton's Stampede, you can choose North or South, for Pirates Voyage Dinner & Show, you can choose Crimson or Sapphire, and for Hatfield & McCoy Dinner Feud, you can choose Hatfield or McCoy. Choose carefully — your seats determine who you'll want to be cheering for during the shows!
3. No Worries the Day of the Show
Another perk of getting your tickets ahead of time is that you won't have anything to worry about on the day of the show! All you have to focus on is having fun. We recommend arriving at least 30 minutes early the day of to pick up your tickets from the box office. If you wait until that day to purchase tickets, there's a chance you'll be turned away because the show is sold out. Don't take that risk, and get your tickets ahead of time! You'll love having the excitement build as you pick up your tickets and head inside to enjoy an unforgettable show.
4. Special Meals
Getting tickets in advance also makes it easy to specify if you need a special meal. The main draw of dinner shows is that they offer both entertainment and a delicious meal! That's why the attractions offer special meals for those with dietary restrictions or preferences. When you go to buy your tickets online, you can choose if you'd like a vegan, a vegetarian, a dairy-free, or a gluten-free meal. If a special meal is required, you'll have to specify it while making your reservation. Everyone will be able to enjoy the dinner at the most popular shows!
Get Your Dinner Show Tickets
With all these perks for getting your dinner show tickets in advance, what are you waiting for? Get your tickets to the most popular dinner shows today. Here are tickets to the best dinner shows around:
Dolly Parton's Stampede in Branson
Dolly Parton's Stampede in Pigeon Forge
Pirates Voyage in Myrtle Beach
Pirates Voyage in Pigeon Forge
Hatfield & McCoy Dinner Feud in Pigeon Forge